Oxysept® Disinfecting Solution/Neutralizer-UltraCare® Formula
For soft contact lenses
WHAT MAKES OXYSEPT® DISINFECTING
SOLUTION UNIQUE?
Proven Disinfection System

Powerful protection against a broad range of bacteria and microorganisms.
Unique tablet system provides superior disinfection to leading competitive brands.

Enhanced Comfort

The peroxide system with a built-in lubricant, which retains and seals in moisture.

Ideal for Sensitive Eyes

Once the solution is neutralized, your contact lenses are soaking in a preservative-free solution.
Oxysept® Disinfecting Solution/Neutralizer consists of:
Oxysept® Disinfecting Solution – a sterile 3 percent hydrogen peroxide solution for lens disinfection.
36 Oxysept® Neutralizing Tablets – a unique delayed-release neutralizing tablet with vitamin B12 color indicator that is added at the beginning of the disinfection cycle and colors the solution pink to show that the tablet has been added. This tablet allows disinfection to occur before neutralizing the solution, all in one easy step.
Oxysept® Cup – a specially designed lens cup that must be used with this system for proper disinfection, neutralization and storage. It is made with Gore-Tex to prevent leakage.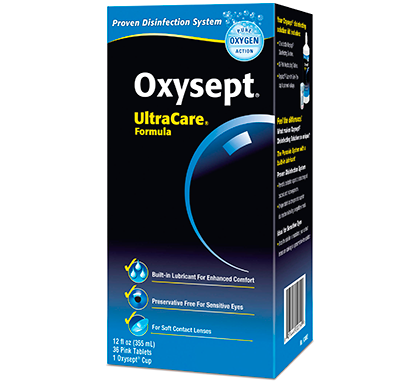 You may also be interested in: