Blink® Tears
Lubricating Eye Drops
Do you have dry, irritated eyes? Experience immediate comfort and longer-lasting relief with less blur!1
WHAT MAKES
BLINK® TEARS UNIQUE?
Dry eye can give you a feeling of overall dryness, irritation, itching, burning, excessive tearing or even gritty "foreign body" feeling in your eyes. If you are experiencing any of these feelings, you have symptoms of dry eye, and you are not the only one. It is estimated that over 50 million Americans suffer from occasional or chronic dry-eye symptoms.2
Lubricating eye drops can bring you the dry-eye relief you are looking for. Specifically, Blink® Tears Lubricating Eye Drops can bring you dry-eye relief with every blink.
Blink® Tears unique visco-adaptive formula will give you immediate comfort upon instillation, thanks to its soothing formula.1
It is uniquely formulated to stay in the eye longer, so you can get longer-lasting dry-eye relief.1 And you won't need to dose as frequently as with other lubricating dry-eye drops.4
Patients also report experiencing less blurring with Blink® Tears than with other lubricating eye drops.1
Think Blink® Tears for:
Immediate comfort1
Longer-lasting relief1
Less blur1
WHAT DID OTHER PATIENTS HAVE TO
SAY ABOUT BLINK® TEARS LUBRICATING
EYE DROPS?
In a recent study of 943 patients:
Patients reported at least a 50% decline in the average number of reported dry-eye symptoms (e.g., dryness, irritation, discomfort, burning) after a month of using Blink® Tears5
70% of patients were comfortable performing their daily activities using Blink® Tears vs. 40% of patients using previous dry-eye drops5

Driving at night
Reading
Working on computer
Watching TV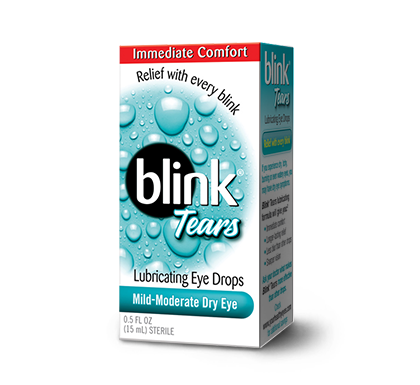 You may also be interested in: